Finding the best binoculars for hunting can be a hassle.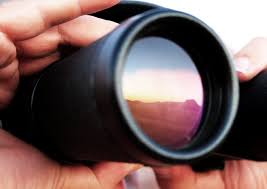 But it gets better:
This article jumps in and presents you with the best binoculars available right now. We selected a few of the top selling and rated binoculars for the hunting fanatics.
Now:
We will review five binoculars that are among the top-notch – worth buying binoculars.
In the end we give you a powerful buying guide so you can make the best decision.
In the following chart, I present you the best binoculars for hunting.
Best Binoculars for Hunting Reviews

Vortex Razor HD – Top of the line
If you are looking for a top of the line binocular for hunting, look no further than the Vortex Optics Razor HD.
Vortex Optics' Razor HD binocular is powered by a 50mm diameter objective lens with 12x magnification – pretty powerful for a binocular of this kind that will provide you with the highest definition and clearest images.
Drawback
If there is a downside to this binocular, it could only be its price tag. It costs just as much like most high-end binocular brands, but this does not stop most users from proclaiming true satisfaction with the Razor HD. Money spent on the Vortex Optics Razor HD is money well-spent.
Do not let the price tag detract you, though. The Vortex has a lot more features that will make your purchase reasonable. The first advantage is that the binocular cylinders and eyepiece are fog proof and waterproof. There are O-ring seals to ensure that nothing will obstruct your line of vision on any kind of weather.
Another feature of the Vortex Optics Razor HD is that its linear field of view extends up to 1000 yards or 285 feet. You can also focus on close range objects for up to 10 feet.
The binocular weighs up to 2.5 pounds and measures 5.1 inches in length by 2.2 inches in width by 6.8 inches in height. It has an exit pupil diameter of 4.17 mm.
It comes with a protective lens cover and carry case.
The Razor HD binocular is also compact and lightweight so you can bring it during camping and hunting trips. Plus, its dark green color matches well in any hunting environment.
As a top of the line binocular brand, its customer service is also highly commendable. Vortex Optics offers a lifetime repair/replacement warranty for all their binoculars.
If you want a high performance binocular and you have the budget (or if you are willing to shell out money for it), then this binocular is for you. It is a high-end binocular, which is worth its price especially if it is well-used. Your hunting trips will never be the same after you use the Razor HD binocular.
Pros
Cons

Powerful 12x lens magnification
Waterproof and fog proof
Comes with lifetime warranty
Renders sharp and clear views even in low light
Vortex Diamondback – Best Price/quality
Advances in optics have allowed manufacturers to craft powerful binoculars and sell them at affordable prices. And the binocular that tops, hands down, the Best Price/Quality category is the Vortex Optics 2016 New Diamondback.
Before we further discuss the positive characteristics of the New Vortex Diamondback, let us look into the minor drawbacks of this new model:
Drawback
The Vortex New Diamondback is just an upgraded version of the original Diamondback. Yes, it has a higher lens magnification power, but it is still a far cry from other binocular brands with higher magnification and lens diameter. If you are looking for a binocular with even more impressive specs then the new Diamondback is not for you.
As an entry level binocular for hunting, the new Vortex Diamondback is just a little bit pricier in this category level. Others may also see this as a drawback, but you should not focus on the price tag. Instead, focus on what the Vortex Diamondback can do in spite of its price. You should know by now that it can do loads just like most high-end brands.
What can the Vortex Diamondback do?
The new Vortex Diamondback is a reinvention of the Vortex Diamondback binocular that was first released years ago. In 2016, the Diamondback binocular sports many improvements among which is the higher 10x magnification ability.
Aside from the higher magnification and lens diameter capabilities, the New Diamondback has a 15mm eye relief and 4.2 exit pupil diameter. These specifications allow you to view clear and bright images. Ideally to look for deer, elk, bird watching and other game from mid to long range.
The Vortex Diamondback is built from a magnesium-enriched chassis to make the device lighter and sturdier – something that most hunters and birdwatchers will be grateful for during long hours of waiting during hunting or bird-watching season.
Moreover, the Vortex Diamondback is protected from dust, water and moisture since it is O-ring sealed and is purged with argon gas when manufactured.
The Vortex Diamondback binocular is suitable for those just starting out with hunting and bird-watching as a hobby. You can get clear and accurately colored views with the Vortex Diamondback at a reasonable price.
Pros
Cons

10×42 magnification ability
Waterproof and fog proof
Covered with lifetime warranty
Magnesium chassis makes it lighter and sturdier

Not as powerful as high-end brands
A bit pricy
ALPEN Shasta – Most diverse choice
Having your own pair of binoculars is essential to any hunting or bird-watching hobbyist. Even students, opera-goers and football enthusiasts may need a good pair of binoculars to see things at a distance clearly. If you belong to any of these classifications and you are in need of a good pair then take a look at the Alpen Shasta binocular.
Alpen Shasta is an entry-level, low to mid-range binocular manufacturer. The brand's goal is to provide affordable binoculars to as wide market as possible without sacrificing the binocular's quality. The good news is that it has achieved that with the Alpen Shasta Ridge 8×42 binoculars.
Drawback
The main con for having an Alpen Shasta Ridge binocular is that it does not have the best magnification capability among other brands in its category. Its quality can also be a little unstable, but these cases are seldom. If you primarily want a binocular with impressive color images under low light, you may need to look at other brands, but do not be disheartened with this minor technical issue since the Alpen Shasta Ridge 8×42 binocular can compensate with its other features.
The Alpen Shasta Ridge binoculars are made from BaK4 high index glass. This allows users to see images projected into the device vividly.
It also has a close focus of up to 7 feet – making it useful for subjects that suddenly crop up in near you in the wild.
Another important feature is how the Alpen Shasta Ridge binoculars are protected from fog and water damage. The binocular's chassis is full of nitrogen to achieve this protection.
Sometimes, it is difficult to see into binoculars if you are wearing glasses. With the Alpen Shasta Ridge binoculars, this task is easier since it has long eye relief for viewing a full field of view.
The Alpen Shasta Ridge binoculars are categorized as the Most Diverse Binoculars since they cater to different consumer types. With its affordable price point and matching high quality, it is easy to see why a lot of people prefer this binocular.
The Alpen Shasta Ridge binocular is a good starting binocular for kids and adults who are interested with hunting and bird watching. It is available just at the right price point. If you wish to up your game, you can always upgrade to a more expensive brand with higher magnification.
Pros
Cons

8×42 magnification
Fog proof and waterproof
Has long eye relief
Can focus up to 7 feet
Covered with lifetime warranty

Rare cases of unstable image quality
Leupold McKenzie hunting binocular
The Leupold 119198 BX-1 McKenzie Green Ring Binoculars is another set of go-to binoculars if you want to make the most out of your budget without sacrificing the quality of the device.
These binoculars are manufactured by the American company called Leupold & Stevens, Inc. They have been in the shooting sports, wildlife and military and law enforcement industries for more than a hundred years making optical instruments. The Leupold Green Ring binocular series are made in China under heavy American quality control.
Drawback
A minor disadvantage of the Leupold 119198 BX-1 McKenzie binoculars is the binocular's build. This should not be confused with the model 119198 BX-1's image quality since that is just superb. It is the Leupold McKenzie's physical appearance that leaves much to be desired since it is not ergonomically designed and the glass rings and lens caps tend to dislodge.
Perhaps by religiously cleaning and maintenance, you can reduce and deal with this drawback.
As with most binoculars, the Leupold McKenzie is waterproof and fog proof. This is a useful feature for those who use this in hunting or even bird watching.
The Leupold 119198 BX-1 McKenzie Binocular boasts a 10x magnification and 42 mm lens diameter. This allows optimum image viewing even at far distances. These binoculars also have a fast focus capability. This is helpful when looking at moving targets.
One of the biggest advantages of getting a Leupold 119198 BX-1 McKenzie Binocular is its price. It is affordable enough for those on a budget and also boasts impressive specs to match other high-end brands.
When choosing a pair if binoculars, it is important to first know what you intend to use it for. If you are looking for a binocular within a good price range, you will not regret getting the Leupold 119198 BX-1 McKenzie Binocular.
Pros
Cons

Powerful 12×42 mm lens magnification
Waterproof and fog proof
Affordable price
Compact and lightweight
Covered with lifetime warranty
Nikon Monarch – lightweight
If you are looking for a lightweight, affordable and high quality pair of binoculars, you should look into the Nikon's Monarch 5 Binocular. The Monarch 5 is an upgraded version of previous Nikon Monarch models. The main difference with this newer model is its weight and its glass lenses.
The Nikon Monarch 5 Binoculars are now made with Nikon's extra-low dispersion glass lenses. This makes the binocular render crisper and color correct images.
This new model also features a higher eye point capability. This translates to a clearer FOV (field of view) and is especially helpful for those who wear glasses.
Drawback
If there is a drawback to the Nikon Monarch 5, it only has something to do with its functional design issue. An example is its lens cap that is constructed too big. However, there is an ergonomic reason to that which others fail to realize. The size of the lens cap is slightly bigger to allow ease of use in the field or outdoors.
For a well-known brand, Nikon does not offer lifetime warranties for its binoculars like other brands. You may need to purchase additional warranty plans if you want to insure your equipment.
As mentioned earlier, the Monarch 5 is lighter than its predecessor. This gives its users lesser burden to carry and more time to explore the outdoors with the help of this new binocular.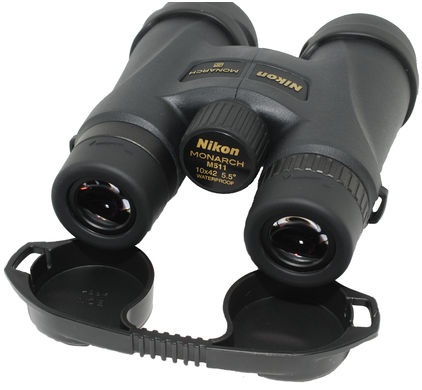 The Monarch 5's focus knob has also been revamped. It is now constructed to fit a person's grip more easily. This way, you can adjust the focus easily and quickly.
The Nikon Monarch 5's body is nitrogen filled and O-ring sealed to make it waterproof and fog proof. This way, you can expose the device to the elements while outdoors and it will not be a problem.
Hands down, the Nikon Monarch 5 binocular is the binocular of choice if you want something light and affordable. You do not need to be a hunting enthusiast to have it. You can enjoy using it while looking at scenery and wildlife in your trips. To hunting and bird watching hobbyists, this Nikon Monarch 5 binocular will surely make a difference in your outdoor adventures.
Pros
Cons

Waterproof and fog proof
Lighter in weight
Now has more powerful lenses
Value for your money

Lens cap is poorly constructed
No lifetime warranty
Best Binoculars for Hunting Buying Guide

Hunting is fun, and every hunter has his or her preference. Some people love hunting during dawn, some when the sun is high in the sky and others during the late hours of the day. Some people like large prey such as deer, and others prefer small animals such as rabbits. Each animal has a preference for its habitat. All these issues present some limitations to the use of binoculars. As such, your choice of the best binocular for hunting, with a keen interest here on the magnification, will be influenced by the type of game you plan to hunt.
Common mistakes
A common mistake that novice hunters make when buying a pair of binoculars for their hunt is picking a pair based on its finish. While it is also what the avid hunters do, novice hunters do not know that the hunting binoculars they pick should not play a part in giving their position aware when they spot their game. In short, anything with a glossy finish, especially with metallic frames, is a wrong choice. The reflections that bounce off them will give away your location, something that even the lens can do if you are not careful.
Best magnification and objective lens
Some people don't know what kind of binocular that they need to choose when they want to go hunting. And that's perfectly normal. There are quite some factors that need to be considered. The most important is the magnification and the objective lens size of the binocular. We recommend a magnification of 8 to 10 and an objective lens size of 42. If you combine these two numbers, we get two binoculars; one of 8×42 and one of 10×42. Which one should you pick?
I recommend using an 8×42 if you are hunting in the forest and a 10×42 if you are hunting in open fields. We will discuss the true meaning of these numbers down below.
The Specs for the Best Hunting Binoculars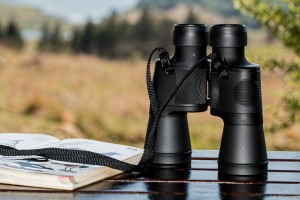 Your choice should be based on your hunting demands and conditions. Decide if you are going to hunt during the day when there is plenty of light or during the late hours of the day when the light is low. Also, consider the weather conditions; if it is wet, humid, hot or windy. All these are things that govern your choice because they influence how well your sights on the desired target will be during your hunt.
Once you have such details, you can use them to guide you on what to choose, and this requires that you have a good idea of the specs of hunting binoculars. You should know:
Design (porro or prism)
Objective lens size
Magnification power
Lens coating
Comfort
The most important things among those mentioned are the objective lens size (field of view) and the magnification. Get this right and you can then focus on other features such as lens coating, the construction or design, and the overall weight of the binocular.
Here is a quick breakdown of the things that stand out concerning specifications that can guide you when choosing a good binocular.
Binocular Design
When choosing a binocular, there are two designs available. These are the porro prism and the roof prism. Porro prisms are the oldest and more simple of design but they are heavy and bulky. Roof prisms have not been around for so long because their design is more complex than a porro prism. In this review, we have only talked about roof prism mainly because they are less bulky, weigh less and are preferred among hunters.
Objective lens size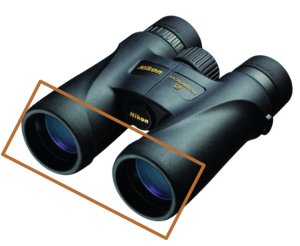 The objective lens is the lens on the binoculars that is furthest from your eyes. It is the biggest lens on a pair of binocular.
The bigger the objective lens size, the better the view, but this also means the heavier the hunting binoculars are; as such, you need to find a balance. Get something with sizable objective lenses and yet is lightweight. Anything with an objective lens diameter of 42mm will be good for hunting because most hunts are done in low-light conditions. How bigger the objective lens size the better it is for hunting in low light condition.
Magnification power
A very high magnification is never a good thing, but that depends on how far the object to be viewed is from immediate sight. The standard distance of view is 1,000 yards, which is the number you should base the magnification on when choosing the best binoculars for hunting. If you are hunting in an open field, you can work with a pair of hunting binoculars with a medium magnification because you just need a narrow field of view. If you are hunting in the woods, you need something with a low magnification to increase your field of view. We recommend a magnification power of 8 to 10. 8 for the closer game and 10 for game on a longer distance.
Lens coating
Most manufacturers design their binoculars with the consideration of changing weather conditions that hunters have to face. The long and short of it is that you need a pair that has a coating that help to block colors of the foliage and haze to enhance reds, browns, and other colors of wild game for better visibility. These lens coatings are included in all of the binoculars that we review.
Binocular comfort
In regards to comfort, the binoculars need to be weather-resistance like water proof and fog proof. Also, consider eye relief is you are a person who wears glasses. If your glasses are wider than the eye relief, then you can achieve the whole field of view without vignetting.
So, you now know more about binoculars and have an idea on what to buy. If this article has helped you, please consider sharing this article with your friends. If you have questions you can email us at the contact page or leave a reply below.
References
This article about the best binoculars for hunting is made possible by these sources:
https://en.wikipedia.org/wiki/Binoculars
http://www.nikon.com/products/sportoptics/how_to/guide/binoculars/basic/basic_03.htm