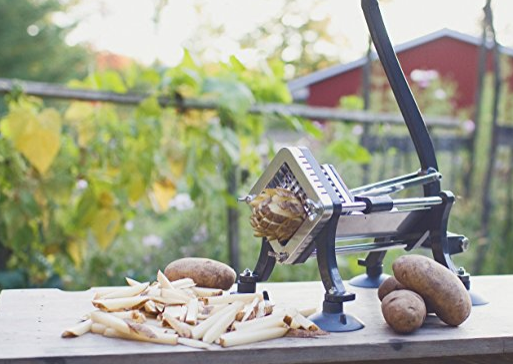 Do you love french fries?
Then you agree homemade ones are the most satisfying.
Don't you think?
It gets even better:
In this article we have composed to the point reviews so you can get the best french fry cutter available right now!
Things we looked at:
Efficiency
Effectiveness
Quality construction
Durability
Reliability
Ease of use
The table below shows the best French fry cutters and their distinctive features. After the table we will review each cutter more in depth. After that we have a buying guide. This way you can choose the best french fry cutter that suits you!
Let's start!
The Best French Fry Cutter Reviews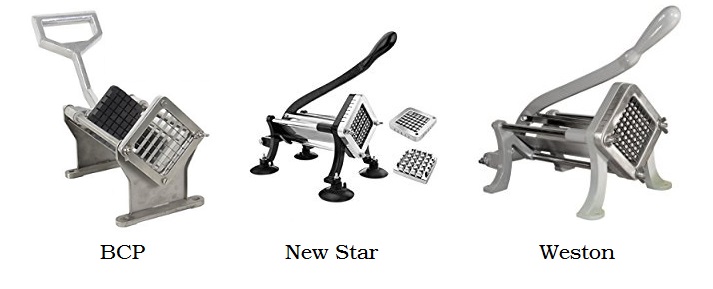 BCP Potato French Fry Cutter – Most Diverse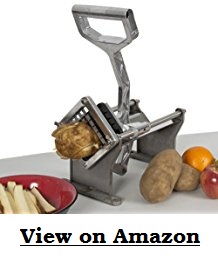 This French fry cutter, manufactured by Best Choice Products, is a heavy duty machine completely made of stainless steel. Though described as a commercial grade equipment, it can be used for both commercial and domestic purposes. The BCP Cutter has four blades in total. Three of these blades are devoted to the slicing and dicing of potatoes into French fry sizes, while the fourth one can be used for cutting up vegetables and fruits, and even for apple coring. This makes the BCP cutter the most diverse and versatile cutter in the list.
The three French fry blades come in the following sizes: 3/8", ½", and 3/4" respectively, thus making the BCP cutter quite capable of producing a variety of restaurant-quality fries having uniform cuts. Due to the fact that the whole equipment is made of stainless steel, it is virtually rust-proof and dishwasher safe. So yes, you can dunk it in your dishwasher after use.
Drawback
The major disadvantage to using this cutter is the fact that it must be bolted to the wall or mounted on the countertop via bolts and screws for effectiveness and maximum output.
Otherwise, you would need to apply a whole lot of arm strength and upper body effort to achieve the leverage needed to push the potato through the slicer.
Alternatively, you can attach suction cups to the feet of the cutter instead of permanently mounting it. Sadly, the cutter doesn't come with those. You would have to purchase the cups yourself.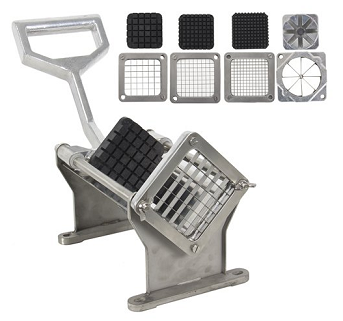 Overall, the BCP cutter is a great choice for both small food business owners and fries-loving home owners, as it is constructed of quality parts, provides varying options, and is reliable, durable and extremely easy to use. Its biggest advantage lies in its ability to be used for several purposes. Apart from creating French fry-sized potatoes, it can be used for coring apples and oranges, and for cutting carrots, zucchini, onions, bell peppers, pickles, and even thick potato wedges.
Pros
Cons

Rugged and sturdy
Rust-proof
Practically indestructible
Easy to clean
Variety of potato sizes
Cutting fruits and vegetables

Should be secured to countertop
Hard to get replacement parts
Suction cups are not attached.
 New Star Commercial French Fry Cutter 
Sticking true to its name, this French fry cutter has all the appearances of a commercial machine. Huge, sturdy and industrial-looking, the New Star cutter is a special and limited release from the stables of New Star Foodservice. Lovers of black shiny kitchen gadgets and appliances would find this cutter appealing, as it comes with an attractive black finish.
Onto its specifications, the New Star French fry cutter has only two cutting blades of sizes ½" and 3/8" for thicker and thinner fries respectively. Unlike the BCP cutter which is completely made of stainless steel, the New Star cutter has a cast-iron body. The blades, frames and plates are constructed from aluminium while the remaining parts are made from stainless steel.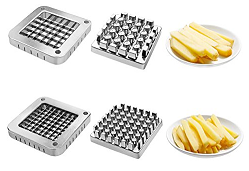 This heavy duty machine is designed to withstand the stress of demanding use. With sharp blades and a strong frame, this cutter is capable of making quick work of potatoes and turning them into fries within seconds. To speak plainly, there is no single flimsy or delicate piece in this cutter. It is all strength.
Drawback
On the downside, this cutter's big size makes it virtually impossible to put it in the dishwasher. Thus, to clean it, you would have to take the machine apart and clean each item separately.
In other words, cleaning this cutter is no fun at all. Since only a few of its parts are made from stainless steel, the New Star cutter is quite susceptible to corrosion.
On the plus side, you don't need to buy suction cups separately for this French fry cutter. It comes with its own detachable suction cup feet, giving you the freedom to mount it on your countertop without the need to drill holes through the countertop first. For better leverage and ease of cutting, it is advisable to permanently secure it to a wall or table. In a commercial setting such as a restaurant or a food truck, heavy everyday use requires the cutter to be permanently mounted.
Pros
Cons

Fast, efficient and effective
Very durable and strong
Replacement parts for purchase
Comes with suction cups

Susceptible to corrosion
It's big
Cleaning is difficult
 Weston French Fry Cutter – Editor's Choice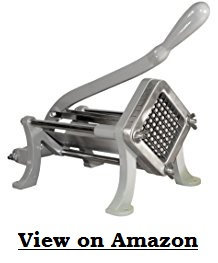 The Weston French fry cutter has been the foremost consumer option since its release in 2003. With over 10 years in the market, its credibility among restaurant owners and home users has remained unchanged. Despite recent releases of cutters from various manufacturers every year, this top-notch cutter from the stables of Weston is still a fierce competitor in the food business.
Well, enough praise! The Weston cutter's main body is constructed of heavy-duty cast iron, while all other components are made of stainless steel. It has only one blade: a 3/8" blade for thin fries. If your tastes run to thicker-sized French fries, you can order an additional ½" blade or for thinner fries, a ¼" blade. These extra blades are designed to fit into the space of the original blade. All you have to do is remove the current blade, and replace it with your preferred blade of the moment.
Cleaning this cutter involves disassembling it into its component bits. Fortunately, the component bits are stainless steel materials and dishwasher safe. In other words, after taking the cutter apart, you can either spend time manually cleaning each bit or you can simply place the blades, trays and plates into the dishwasher and let it do the job. Hint: the dishwasher option saves time.
Drawback
However, there is a drawback to using the Weston cutter. It is a large-sized machine that requires a lot of space. It is perfect in an industrial, commercial or professional kitchen but very difficult to use in a cramped space.
Check out BakeLikeAPro's Channel here
Most cutters are quite inept and incapable of handling sweet potatoes, as they are harder than regular potatoes. Purchasing a bigger cut blade for the Weston cutter helps in making your dreams of sweet potato French fries a reality. The provision of suction cups with the machine on purchase makes it possible for it to be used on any flat surface. However, permanently securing it to a wall, countertop or a solid wood frame remains the ideal option.
Pros
Cons

Blade sizes can be changed
Constructed of quality parts
A great choice for slicing vegetables
Very durable and strong
Comes with its own suction cups
Easy to clean

Requires a large storage space
French Fry Cutter Buying Guide
From all indications, the French fry cutter is a must-have gadget in your kitchen. However, before getting one, you must carefully consider some factors: the type of cutter needed, the quantity of French fries to be made daily, the regularity of making French fries, your budget, and the size of your kitchen. These factors are important as the needs of a restaurant or a food truck owner are quite different from that of a home filled with fry-loving individuals or someone who enjoys French fries once in a while. These factors would guide you in choosing the cutter that is most aligned to your needs and preferences. Below are a few handy tips you need to know before purchasing the best French fry cutter.
How to Use a French Fry Cutter?
This depends on the type of cutter being used. For a simple or basic fry cutter, cut the ends of the potato, so that it balances on the countertop. Then place the cutter on top of the potato and push it down. The cutter would cut through the potato, but you must be ready to exert yourself greatly.
I would personally recommend you getting a deluxe cutter from any of the three just reviewed. Simply place the potato in the designated trough or press. Then push down on the handle till the potato goes through the slicer and comes out as French fries on the other side. Bolting the cutter to a stable and immobile surface would increase your leverage and reduce the amount of strength needed to push the handle down.
Whichever option you eventually decide upon, using a French fry cutter is a simple and straightforward process.
Size of Your Cutting Blades
Blades for French fry cutters come in four major sizes: 1/4". 3/8", 1/2", and 3/4". Simply put, a 3/4" blade would produce 3/4" French fries. A 3/4" fry is quite big and thick. For thinner fries, you can purchase any of the remaining three, with 1/4" being the thinnest of the lot. The 3/8" blade is the most preferred for restaurant owners, as most fast food French fries are 3/8" thick.
Cutter Maintenance
To get the most out of your cutter, proper maintenance is key. Most manufacturers assure customers that their cutters are built to last, but trust me, those claims would prove to be mere hoax if you don't treat your cutter right. For proper cutter maintenance,
Always clean your cutter immediately after use. Don't wait or procrastinate. Once the starch from the potatoes dries on the cutter, cleaning it becomes ten times harder.
If you used water in the cleaning process, make sure you dry the cutter with a clean cloth to prevent corrosion.
Sometimes, food bits get stuck between blades and trays. Use a brush or any pointy item to dislodge and remove them.
Store it in an airy and well-ventilated place. No-one fares well in a cramped environment.
Do not overstress the cutter. Always lube the blades before cutting with a small amount of vegetable or cooking oil to ease the cutting process. Cut large potatoes into two or more smaller bits before placing them in the cutter.
Before using it on dense food items, such as sweet potatoes or butternut squash, it is advisable to soften them first either by boiling or microwaving for a few minutes. Squaring off the ends of potatoes before placing them in the cutter also helps to improve the cutter's useful life.
By now you have gathered information to what you should look for when buying the best french fry cutter. Don't let those delicious homemade fries wait for you. Grab yourself a cutter and amaze your friends!