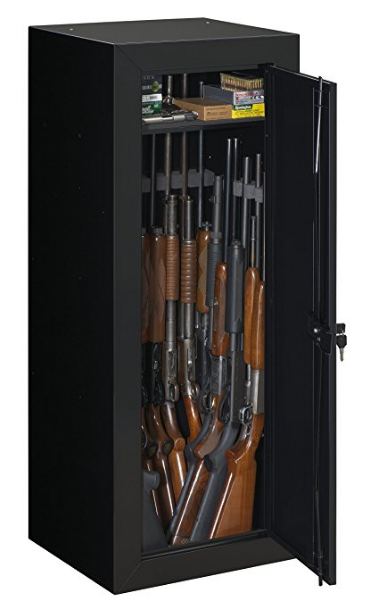 Do you care about your firearms?
You are the person that takes great care of maintaining firearms.
But are you concerned about moisture in your gun safe?
Here is the kicker:
I designed this article so you can get the best gun safe dehumidifier.
Directly below you will find my favorite gun safe dehumidifiers in a neat table so you can compare them. Later on, I will review them one by one in more detail and tell you the pros and cons of each product.
To finish it off:
There will be a guide at the bottom of this page to help you so you can make the best buying decision.
Here are some of the best gun safe dehumidifiers:

Best Gun Safe Dehumidifier Rods
Goldenrod Gun Safe Dehumidifier – Editor's Choice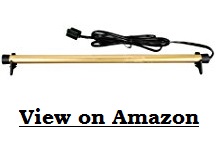 The GoldenRod Dehumidifier Rod is excellent if you want to prevent rust, mildew, and corrosion from ruining your guns. Simply place one unit in your gun safe and it will keep the interior warm and dry. It will eliminate the humidity that may cause your guns to rust and erode.
This dehumidifier is a 100% American product, and is made from all original parts and materials. Its topnotch quality makes it one of the best gun safe dehumidifiers out in the market today.
I also love its hassle-free lifetime warranty, which is a testament to GoldenRod's commitment to satisfying its customers with only the best products and excellent service.
Drawback
However, one issue I found with this product is that the manufacturer doesn't recommend which size to purchase. Because of this, I ended up buying a dehumidifier one size smaller than what's ideal for my gun safe. Before purchasing the unit, make sure you know the measurements of your gun safe first then buy the biggest available one that will fit into your container.
Tip: For best results, mount this gun safe dehumidifier about 6 to 8 inches from the floor.
Pros
Cons

No glass tubes
Easy to install
12-inch, 18-inch, 24-inch, and 36-inch
Screws and mounting brackets included
Lifetime warranty

Consumes from 25 to 38 watts
You need an outlet
No battery
For less than $40 in Amazon, the GoldenRod Dehumidifier Rod is a great buy, and is worth every penny you will pay.
Lockdown Gun Safe Dehumidifier Rod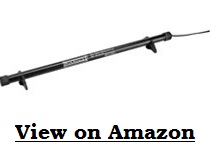 Another great rod is the Lockdown dehumidifier rod. It effectively adjusts the air temperature in your gun safe and protects your guns from rust and corrosion. It is also easy to set up. Just mount it horizontally at the bottom of your safe, and it will take care of removing moisture and humidity from the inside of your safe.
This dehumidifier for gun safes also comes with a detachable plug attachment, making it easier to install. While it works best for large safes, you can choose from two sizes—12 inches and 18 inches—depending on how big your gun safe is.
Drawback
My biggest issue with the product is that it doesn't have a lifetime warranty. While this gun safe dehumidifier is made from quality material, you will still need to purchase another unit if it breaks down.
Mounting: Simply mount it at the bottom of your gun safe and connect it to a power outlet. If your safe does not have a power source, you can drill a small hole at the back, just enough for the dehumidifier's wire to pass through. You can then reassemble the plug outside the safe and connect it to your power outlet. The power cord is 6 feet long, so it can easily reach your nearest outlet with no problems.
Pros
Cons
 

Heats up quickly
Easy to install
Consumes from 8 to 12 watts
Comes with screws
Low price

 

No battery
The unit requires an outlet
No lifetime warranty
If you're looking for an economical but effective dehumidifier for gun safes, then the Lockdown Dehumidifier Rod is the perfect item for you. Selling below $20 in Amazon, you can get a product that will protect your precious gun collection from mildew and excess moisture, and you won't have to shell out too much money for it.
Best Silica Gel Dehumidifier for Gun Safe
Renewable mini dehumidifier – No Power Socket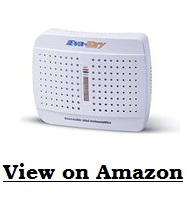 If you prefer a renewable dehumidifier , then the Eva-dry E-333 Renewable Mini Dehumidifier is a great choice for you. I consider this beauty as one of the best gun safe dehumidifiers that doesn't require a power socket.
This product is safe and easy to use. It can cover safes as large as 333 cubic feet. Depending on the size, you only need to recharge your unit every 15 to a few months. Recharging the gel is as simple as 1, 2, 3. All you need to do is plug the unit into a power socket and let the crystals release the absorbed moisture they accumulated in your safe.
Drawback
One slight hitch is that the silica gel is inside a plastic capsule, so you have to punch holes in it first for the dehumidifier to work. Once you've done that, you can hang your unit in your gun safe and let it do its work.
How does it work?
The crystals change from blue to pink to indicate that you need to recharge your unit. It also has a humidity indicator outside so you can easily know if you need to check your crystals. Even when the crystals turned pink and are full of excess moisture, this product does not spill or leak, so you don't have to worry about tiny puddles of water at the bottom of your gun safe. The unit is easy to recharge. Simply plug it in a place with good airflow, and it will be ready for reuse in a couple of hours.
Pros
Cons
 

Easy to use
Compact
Included hanger and charging cord
Lasts up to ten years
5-year warranty

 

You need to puncture the plastic bag before use
You need to "recharge the silica gel"
For under $15 in Amazon, this dehumidifier is a great solution to all your gun safe humidity issues.
Lockdown Silica Gel 750gr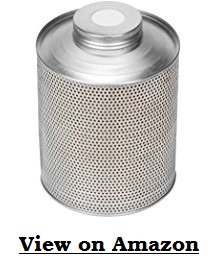 If you prefer a rechargeable gun safe dehumidifier, then you can also get the 750-gram Silica Gel by Lockdown. It is simple to use, and you can easily recharge the desiccant in the oven.
This cordless dehumidifier for gun safes can provide ample protection for gun safes of up to 57 cubic feet. This makes it an excellent choice for keeping your valuable gun collection rust-free and without corrosion.
Drawback
You have to be careful when recharging the crystals in the oven. While the metal container is heat-resistant, some parts, such as the view port, may melt when exposed to high temperatures. To avoid this kind of situation, I recommend recharging the silica gel by spreading them out on a cookie sheet or metal tray. This cuts down the baking time as well.
Pros
Cons
 

Effective
Silica gel changes color once it is fully saturated
No power outlet needed

 

Take out the silicon if you want to recharge it
Container is lightweight aluminium
No lifetime warranty
You need to open the lid to check saturation
This hassle-free dehumidifier works well in small and big gun safes. For less than $15 in Amazon, Lockdown's Silica Gel is a cheaper yet effective way to keeping your guns rust- and gunk-free.
Best Gun Safe Dehumidifier Buying Guide
How big is your safe?
If you have a large safe  I recommend using the 36" Goldenrod Dehumidifier Rod.
For medium gun safes i would recommend the  Lockdown's 12" dehumidifier, since it requires only 8 watts, which is 4 watts lower than GoldenRod's version.
Do you have power available?
If so, go for a rod. The Lockdown Dehumidifier Rod requires less power compared to GoldenRod, but is limited to 12" and 18" sizes.
If not, go for a rechargeable device. Lockdown's Silica Gel is an excellent choice if you dislike recharging your unit using a power outlet. Just stick the unit in the oven, and the crystals will be back dry again after an hour.
Do you check your safe regularly?
If you are busy and have no time to do regular checkups, then a rod dehumidifier is perfect for you. Both GoldenRod and Lockdown require little to no maintenance. Just mount it, plug it in, and leave it to do its job.
If you have more time and want to save money, you can go for a rechargeable dehumidifier instead. Lockdown's (750gr) Silica Gel has limited indication of the saturated crystals, and you have to open the lid manually to check their status. Eva-dry's Mini, on the other hand, is easier to check, because of the humidity indicator outside the unit.
Check out the discussion on heating rods here.