Today is a beautiful day!
I'm going kayaking!
Did you know most people don't like this part?
It's the part where you are grabbing your gear and try to improvise a way to hold on to your kayak.
It's supposed to be easy… 
That's why i have written some detailed kayak cart reviews about the best kayak carts out on the market.
First we go over the best kayak carts in a nice table. Second we review each and every kayak cart. To put the cherry on the cake there is a buying guide at the bottom of this article. Read this and you will have the best kayak cart available to suit your own needs.
Let's go! 
Best Kayak and Canoe Cart Reviews

24″ Trailtrekker Kayak Cart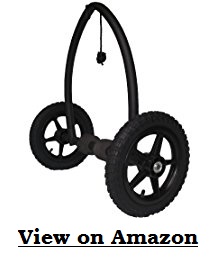 The 24 inch Trailtrekker Kayak Cart is one of the best authentic kayak carts in the market today. Designed with a 24-inch axle, this cart has the ability to hold your kayak through rough terrain without scratching or causing any damage to your kayak.
The slim black tubeless tires fitted to this cart play an important role of reducing pressure and air leakage when owners are pulling their kayaks through gravel or rough terrains. According to the manufacturer, inserting large wheels and reducing the overall weight of this unit was the brightest idea they could think of because it paid back with most customers appreciating how easy it was to pull it and insert it on the lower end of their kayaks without requiring any extra assistance.
Drawback
Although the 24 inch Trailtrekker Kayak Cart does exactly what it was designed to do, a number of customers have really complained that it's not the perfect choice for large kayaks. One customer actually stated that the cart frequently pops out right underneath when pulling his kayak.
Pros
Cons

Different seizes 24", 27" and 30".
Fits both large and slim sea kayaks.
Special tires keep the kayak stable
Lightweight
Easy to assemble

Puts your kayak low to the ground
Expensive.
Malone Clipper Deluxe Universal Kayak Cart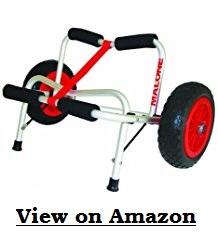 Looking forward to take your family to one of the best kayaking adventures? Well, with the Malone Clipper, I believe you'll enjoy every moment of your kayaking adventures. Unlike most other kayak carts available, the Malone Clipper is a universal cart that makes transportation of your kayak or canoe very easy and more simplified. This kayak cart is designed with a padded aluminum frame that is very easy to load your canoe or kayak on.
The manufacturer has also added an easy to lock kickstand, scupper holes and stoppers that allow you to pair the cart and the kayak together when transporting. The extra padding on the aluminum frame shields the kayak from any damages caused when it gets to contact with the cart during transportation.
The Malone Clipper is supported with two 10-inch airless "Never Go Flat" tires. These heavy duty tires are quite special because you can navigate on any terrain whether rough or smooth without getting a flat. The tires are are removable for easy storage, light and able to support a weight of up to 200 pounds.
Drawback
Although this kayak cart has been welcomed with positive criticism from most customers, there is a drawback  which is worth mentioning. Being airless, these 10-inch tires are perfect to use on normal terrains but very difficult when it comes to beach sand.
Pros
Cons

Foldable aluminum frame
Airless tires
Good padding
Up to 200 pounds
Corrosion-resistant  

Tires are not made for sand 
Suspenz Smart Airless DLX Cart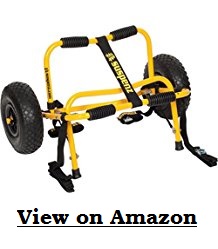 The Suspenz Smart Airless DXL Cart is one of the most popular kayak carts in the market today. Recognized for its ability to transport canoes and kayaks over long distances, this unit is designed with 10-inch airless tires which are durable and perfect for all terrain use.
To make it maneuverable and safe for your canoe, the manufacturer has designed the frames with a mix of aluminum and stainless steel. Apart from being sturdy, the frames are rust-proof, light and easy to fold and pack.
It's designed with rubber bumpers which protect the lower parts of your canoe or kayak from getting scratched when travelling. With the capacity to carry a weight limit of 150 pounds, this kayak cart comes with a black mesh bag with shoulder straps for easy carrying (it's demountable). As I conclude, let me admit that the manufacturer has made a smart move of designing the Suspenz with an option to add another set of wheels (balloon wheels) to make it easier to pull your canoe or kayak on fine smooth sand.
Drawback
This cart has so many benefits that make it perfect for use by all canoe and kayak owners. However, there are two main drawbacks with this kayak cart that makes it sometimes unreliable. One is the wheels. Although you can demount them, most customers have complained that they're large and unable to fit in the storage areas of their canoes. The second major problem is with the strap system. The straps are too short and unable to firmly hold the canoe in position when transporting. Most often when transporting, the kayak may slip over and probably get scratched or get damaged by the impact.
Pros
Cons

Airless tires
Aluminum and stainless steel frame
Up to 150 pounds
Rubber handles
Storage bag

Tires are not made for sand
Unreliable straps when pulling large canoes.
Wheeleez kayak cart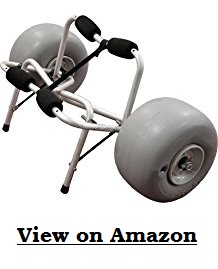 The wheeleez kayak cart is another high performance cart designed for medium sized canoes and kayaks. Equipped with low pressure balloon tires, this kayak cart has the ability to transport your canoe through any type of terrain whether gravel, smooth or sandy.
Most professional customers who have been in the canoe arena for long have preferred purchasing this unit over Suspenz and Malone Clipper due to the short balloon tires that never get stuck in the sand. When it comes to the frame material, the Kayak Beach Cart is designed with a durable rust proof aluminum frame and stainless steel hardware which is anodized and marine tested/approved. Designed to hold a maximum weight of 165 pounds, this kayak cart is perfect for moderately sized canoes that require a light kayak cart.
Drawback
Although most customers have really appreciated using the Kayak Beach Cart over most airless tires, there has been one major concern with these tires. The main concern is the valve stem for inflation. Located close to the rim, the valve stem is very difficult to hold and inflate the tires. Most customers have been forced to think of creative ways to pull the valve stem close enough when inflating such as using pin head pliers. Since the tires should be inflated from time to time, I think this is a bitter pill which most customers will have to bear.
Pros
Cons

Low pressure tires for sand
Easy to attach.
Seattle Sports Paddle Boy Go Cart 
The Seattle Sports Paddle Boy Go Cart is one of the best kayak cart in the market today. Designed to carry canoes and kayaks over a long distance using your bike.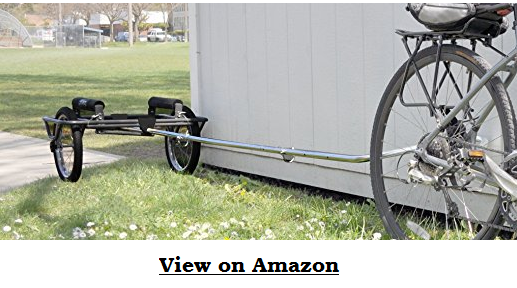 The Go Cart is constructed with a light anodized aluminum frame and a stainless steel hardware that's both durable and rust proof. The sleek dimensions of 19×13×41 inches and lightweight of 20 pounds makes this cart one of the lightest kayak carts you can ever imagine. Although it can only manage to hold a maximum weight of 75 pounds, this kayak cart is one of the best and most convenient carts to consider for your canoes, kayaks and surfboards.
Drawback
One major concern is the trailer design and the axle hole. Most customers are really disappointed with these two issues. One, the axle hole is too small about ¼ inch, secondly, the adapter that pairs the trailer to the rear axle is made of cheap plastic which is easy to snap and break up. Finally, the tabs for the wheels are not perfectly welded making it very difficult to install the tires.
Pros
Cons

Large tires for all terrain use.
Easy setup mechanism
Light and easy to pack.
Best Kayak Cart Buying Guide

One of the most essential gear used by fishermen when preparing for their fishing activities is a kayak or a canoe. Although these kayaks play their role perfectly well, they're usually bulky and very heavy to transport from point A to point B.
Due to this setback, most fishermen and adventure enthusiasts have thought of considering kayak carts as their possible alternatives when it comes to transporting their kayaks and all their belongings from home to the shoreline. With a rise in demand of these special units, most companies have produced more and more kayak carts to satisfy the rising demand.
To ensure that customers purchase the best kayak carts, this section will highlight some essential factors you'll need to consider before making your move.
Consider the tires
Whether you buy a ready-made or a DIY kayak cart, one of the most important things you'll need to consider is the wheels and the type of terrain your cart will roll over. The type of tires you choose plays a big role. To explain more about the tires, I will review some of the common type of tires that comes with the best kayak carts.
Plastic tires—the standard plastic tires are some of the widely popular tires among most fishermen and kayak owners. These tires are mostly lightweight, foldable and very easy to pack. These tires make it very easy to pull your heavy kayak from home to the shoreline through any type of terrain except beach surfaces with soft sand.
Pneumatic tires—pneumatic tires are another set of heavy duty tires that are mostly used on kayak carts. These tires are usually air inflated and are perfect for use on any type of terrains ranging from smooth, gravel or sandy surfaces.
Balloon tire carts—these are the most expensive types of tires in the market. These tires are very unique and perfect for kayaks that require to be transported on sandy surfaces. Although these tires are light, they have three major setbacks which make them unreliable. One is the expensive price, two, the tires can get flat easily and three, the tires are only designed to roll on smooth or sandy surfaces and not gravel terrains.
Which style of a kayak cart do you need?
When purchasing a kayak cart, one of the key things you need to consider is whether you'll be biking or pulling your cart with bare hands when heading to the river or shoreline.
If you decide to use a bike to pull your kayak, then there are a number of things you need to keep in mind first. One, you need to consider the terrain and the physical conditions of where you'll be trailing through.
Pulling your canoe on gravel trails, narrow roads or roads with too much corners can damage the trailer. Secondly, gravel roads and those trails with sharp corners can damage your canoe because you'll notice that every time you turn a corner, your canoe moves towards one side thus exposing it to any damage that may come its way. Therefore, to enjoy a smooth ride when pulling your canoe with your bike, you should consider getting the Seattle Sports Paddle Boy Go Cart.
Strapped vs Plug-in kayak carts
When choosing a kayak cart, one thing you also need to check is the style of the cart. There are two major kayak cart styles available which include the plug-in and the strapped carts.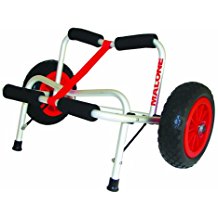 The strapped cart style is commonly used by most kayak owners and is the most convenient according to most of them. This style involves placing your kayak over the roof of your cart then strap it tightly to make it solid and unable to "play" during transportation. If you choose this style, you need to check the toughness of the straps to ensure that they're tight and unable to get lose when transporting on rough roads.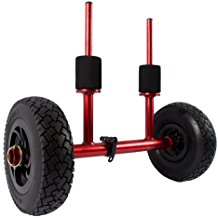 The plug-in cart style is the second option for kayak owners who don't prefer using the strapped style. This style involves plugging the cart inside your kayak's scupper holes located on the seat area. Most kayak owners have preferred this style because of its stability and easy setup. However, one thing you need to consider when choosing this style is whether the scupper holes are compatible with your cart. This is an example of a plug-in kayak cart.
How to use a kayak cart
Kayak canoe carts have been used for a very long time to help transport your canoe or kayak for long distances without feeling tired or damaging your vessel. These carts or trolleys—as they're referred to by most people—come in different styles and are designed to carry a particular weight limit.
They're simple to use and perfect for people who trail on rough gravel roads, pavements, grass or hard sand surfaces.
For your cart to carry your canoe or kayak for a long distance without facing any challenges, you need to strap or plug the canoe perfectly well on the cart to ensure that it doesn't fall off when transporting. In this section, we will explain a simple procedure which you'll need to follow when using your kayak cart.
Step one:  The first step of using your kayak cart is to load your kayak or canoe on. To do this, you need to open up your cart to form a V-shape.
Step two:  Set the cart and the kayak next to each other with the seat area being adjacent to the center of the cart. With your kayak being on an upside down position, angle your cart then lift the kayak gently to rest at the center of your cart.
Step three:  When your kayak lands safely on the cart top, it's time to strap it tightly on the cart. Using the available straps, bind each bar on both sides with a single strap as tightly as possible to keep the kayak well integrated to the cart.
Step four:  When you're done, you can now remove the kickstand and get ready to roll. If you stay near the beach, you can opt to pull the cart with your bare hands while walking. For those who live far away from the beach, you can just use a trailer hitch to connect the kayak cart to your bike.
By now you should have picked the best kayak cart that suits you most. Now go and enjoy your kayaking trips!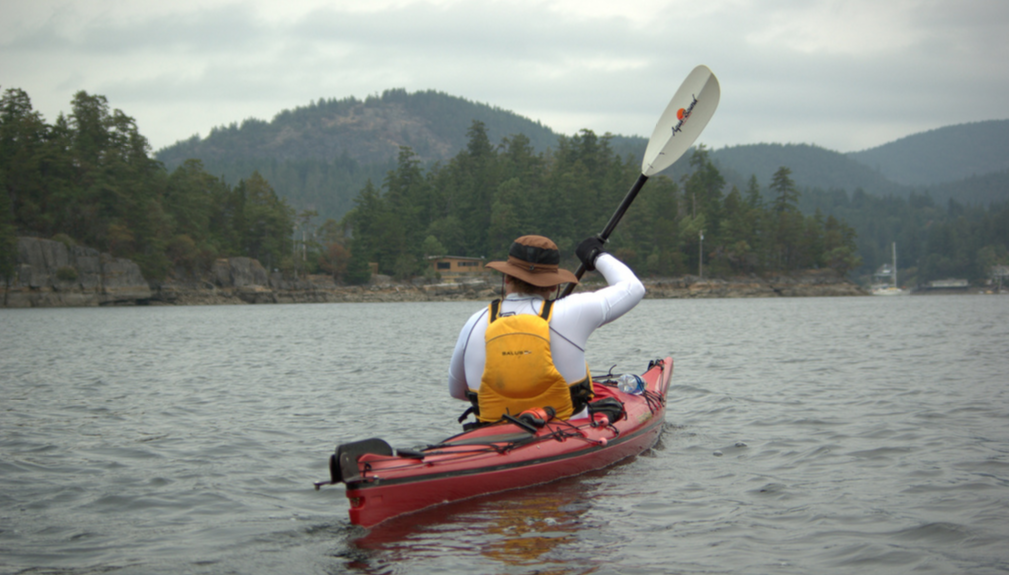 Resources:
http://www.suspenzkayakstorage.com
http://www.maloneautoracks.com